Sixfields Stadium - HOME of Northampton Town Football Club
The plight of Wimbledon still remains as strong as ever with their fans not knowing how far they will have to travel from one season to the next with their chairman still hell bent on a move to Milton Keynes. Charles Koppel, now a hated figure at the South London club refuses to accept the ruling against such a move and would dearly love to move out of London. The fans however would love to return to the Plough Lane site and return Wimbledon to its rightfull home.
Northampton Town fans would hate a similar move and we should all stick together to ensure it isn't our/your club next on some chairmans agenda.
What can we do? On Saturday they were handing out postcards and asking people to send them to the Football League Chief Executive David Burns. You can help now by doing the same thing. Just copy the following:
Dear Mr. Burns,
I believe that football clubs belong in the communities that gave birth to them. In the spirit of this I oppose Wimbledon Football Club's current owners being allowed to take the club 70 miles away from its supporters to Milton Keynes.
This move, if it were sanctioned, would open the door to franchising in football. No club would be entirely safe from being bought by unscrupulous owners and moved to a different part of the country.
Please keep up your efforts to stop Wimbledon FC's proposed move to Milton Keynes and to persuade their owners to return the club to Merton, where it was born.
You will need to add your name, full address and signature to this. Your phone number is optional.
Please then send it to
Mr. David Burns
Chief Executive
The Football League
11 Connaught Place
London W2 2ET.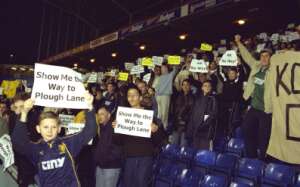 Wimbledon fans protesting
Remember that you are not just fighting for the Wimbledon fans here but for the whole of football. Do you know any football fans who don't visit this site? Please forward them the url and ask them to consider giving this their support.
There are times when football fans should stick together and this is one of them. Don't let this group of people running Wimbledon Football Club change the whole face of English football.
Further information on Wimbledon's fight can be found by visiting the Wimbledon Independent Supporters' Association (WISA) web site at www.wisa.org.uk